Message from your teachers!
Welcome to this week's newsletter! You'll find some learning activities as well as some links that may be helpful to you this week. Your teacher will be in touch with you as we continue making plans to reopen in the fall. However, if you ever have any questions, feedback or concerns, feel free to contact your teacher using the contact info below. Thanks so much for all you do!
Useful Links:
Getting vaccinated in King County: https://kingcounty.gov/depts/health/covid-19/vaccine/distribution.aspx
Read the latest from Neighborhood House! https://nhwa.org/news/
Our four progam-wide expectations are Be Compassionate, Be Curious, Be A Community and Be Courageous. This week we will focus on how children can Be Curious.
We are Curious when we:
Explore new ideas
Ask "I Wonder" questions
Imagine the possibilities
Test our ideas
Value the challenge
In this week's learning resource, you'll find an activity related to this week's expectation. Let us know how it went!
Art / Writing
Activities from Teacher Bea
Construction Paper Octopus
Step 1: Assemble Your Bits
You will need:
A sharpie marker (other markers are available and useable)
A pen (color doesn't matter)
Googly eyes (if you don't have them, you can draw them on!)
A ruler
Regular piece of paper (mine is pale blue but it looks white on my pictures)
Sticky tape
Step 2: The Body
Take your piece of paper and fold in half.
Mark 8 strips. You'll notice you have a small piece left at the end. A "skinny" 9th leg.
Don't worry! That will be addressed in the next step.
Step 3: Cut the Legs
Carefully cut the lines to separate the legs and fully cut off the ninth leg.
You can get your children to do this but remember that scissors are sharp (unless using child scissors).
Step 4: 1st Set of Features
Get your child to draw a nice big smile half way on the top side and three circles on each of the legs.
Alternatively you could use colored sticker dots if you have them or want to make them.
Step 5: Fold and Stick
Fold the octopus round until the tab on the top half is hidden behind the overlapping part and stick with tape.
Curl the ends of the legs by wrapping them loosely around the pen.
Step 6: Give It Eyes
Stick on the googly eyes and enjoy(if you don't have googly eyes, you can draw them on). Your octopus is complete!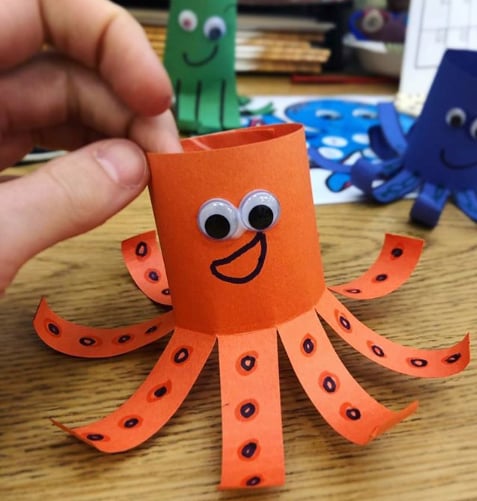 Language / Literacy
Activities from Teacher Lisa
Be Curious:
Find your favorite book and read it with a friend or family member. As you finish reading the book, think of what could happen AFTER the end of the story! Be Curious as to what the characters would do after the story's ending. For example, if you're reading Hair Love, what would Zuri do with her Mom now that she's home?
Here is a link to Teacher Lisa reading a book about the letter S! As you read along, think of other words that have that S sound!
Math / Science
Activities from Teacher Margie