Toddler Class 114A – Teacher Devyn
Newsletter – Week of September 27, 2021 Volume 1
Announcements
Hello and welcome to a new school year! My name is Devyn and I'm going to be your child's teacher this year. I love working with toddlers because they are so curious and excited to learn. I am so excited to get to know all of you! Every week I will be sending out a newsletter with activities and resources for your family. If you have questions about anything or need other resources, you can reach me over phone or text at (206) 306-8098, or email at devynf@nhwa.org.
There has been a recall on Boppy brand infant lounger products. If you have Boppy infant loungers in your home, you should stop using them and contact the Boppy company for a refund.
https://www.cpsc.gov/Recalls/2021/The-Boppy-Company-Recalls-Over-3-Million-Original-Newborn-Loungers-Boppy-Preferred-Newborn-Loungers-and-Pottery-Barn-Kids-Boppy-Newborn-Loungers-After-8-Infant-Deaths-Suffocation-Risk
Resources
Language / Literacy
Go on a walk around your neighborhood and talk with your child about what they see, hear, smell, and feel: trees, cars, people, buildings, animals… use descriptive language like "tall," "smooth," "loud," "rough," etc. and colors!
Math / Science
"Cloud Dough" sensory material
Mix:
-4 cups flour
-1/2 cup oil (any kind)
-Food coloring and glitter (optional)
This is one of my favorite recipes because it is so easy! The texture should be soft and moldable. It can be messy, so I recommend making it over a tile floor or outside! It is super soft and fun to play with. Add some measuring cups, forks and spoons, funnels, sand toys, toy animals & cars, and anything else you want to extend learning!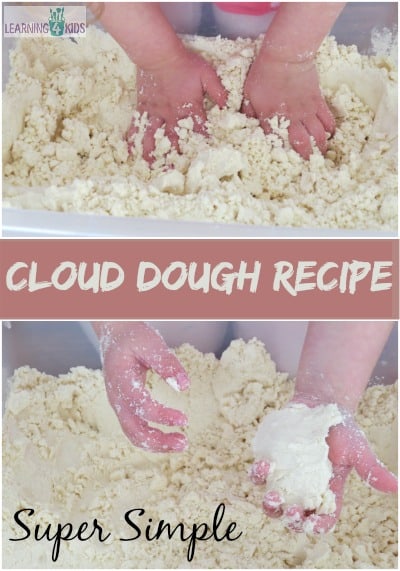 Problem Solving
Practice putting on a jacket independently and zipping it up!
Let your child try it themselves for a few minutes before offering help if they need it.
Movement / Play
Have a dance party! Put on your favorite music and dance around together!
Art / Writing
Homemade finger paint recipe:
https://tinkerlab.com/paint-recipe-kids-homemade-finger-paint/