Teacher Juliet & Teacher Genet SY 2021 – 2022 Fall Vol. 1
September 6 – 10, 2021
National Preparedness Month
September is National Preparedness Month. This month is divided into different activities to get you prepared. 
Week 1: Make a Plan
Spend some time with your family and friends to discuss how you will communicate in the event of a disaster or emergency. Your plan should updated with recommendations from the CDC regarding the Coronavirus and should include communication for before, during, and after an emergency.
Week 2: Build a Kit
Emergency kits are crucial to have in your home. Gather supplies including food and water that will last for several days after a disaster for everyone in your home. Think about the needs that each person will have and include medication, first aid supplies, flashlights, and extra batteries. You can find a complete list of items to include here: https://www.ready.gov/kit
Week 3: Low-Cost, No-Cost Preparedness
Understand the risk of disasters in your area. Learn how to make your home stronger for safety hazards and make sure that your insurance coverage is current. 
Week 4: Teach Youth about Preparedness
It is important for kids, as well as adults to know what the plan is in case of an emergency. Talk about what to do if you separated, reassure your kids by providing information about how they can get involved.
Movement / Play
Hide-And-Seek
Playing hide-and-seek is a simple, fun game for everyone. A great way to get the whole family up and moving!
Getting Started
Once your child is walking independently, engage in a friendly game of hide-and-seek—the more players, the better!
How to Play
Invite your toddler to team up with you or an older sibling and go hide.
Have another adult seek. Remind your child to be quiet so as not to reveal him or herself to the seeker.
When you have found, as a group, go find the other hiders. If the game is finished, team partner with your child as seekers and go find all the hiders.
Language / Literacy
60 minutes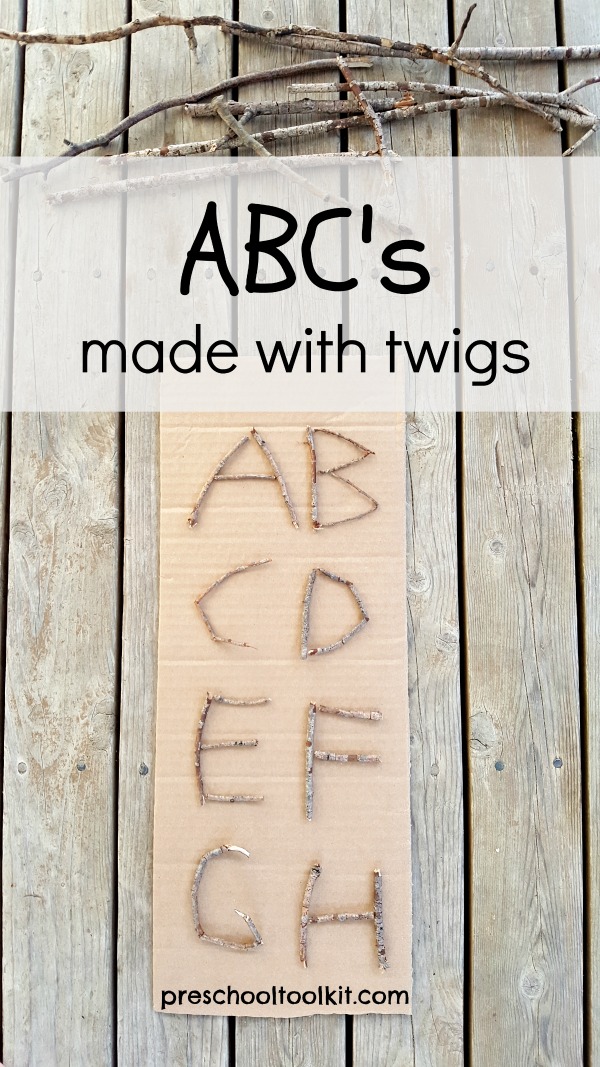 Letters of the alphabet made with twigs
By: Preschool Toolkit
Explore the alphabet with twigs and branches in this outdoor literacy activity. Small twigs can shaped into letters of the alphabet as your family enjoy nature and fine motor play with kids.
Objectives
Demonstrating knowledge of letter-sound correspondences.
Develop fine motor skills
Materials Needed
twigs
flat box or cardboard
Preparation
Collect branches from a variety of tree, including maple, poplar and elm.
Break some twigs with your hands to get them the length you wanted. Cut other branches and twigs to have the same length.
Procedure
Show letters of the alphabet to your kid.
Discuss with your child that you are going to review the letter of the alphabet by turning the twigs into letters.
Making an alphabet is a great way for kids to engage fine motor, sensory and language skills while having fun with outdoor play.
Examples of how we shaped the letters.
A:  3 small twigs
D:  1 small twig on the side, 1 twig bent in the middle
C:  1 small twig broken in two places to allow it to curve
L:  1 small twig with a natural curve
O: 4 small twigs arranged in a circle
S:  1 twig gently bent without breaking!
V and Y:  natural joint (fork) of a branch
X:  1 twig placed over another
Cookie Sorting
Objectives
Children will sort objects by attribute.
Children will recognize shapes.
Children will count.
 Materials Needed
Cookie Sheet
Plain paper or colored paper
Scissors
Crayons, colored pencil, colored markers
Getting Started
Draw a basic shape like circle, square, triangle, rectangle in a paper.
Activity
Show to your child the paper with different shape.
Ask your child to cut the shapes following the line.
After cutting, ask your child to color or design their cut cookie.
While cutting and decorating the cookie challenge your child to identify the different shapes of the cookie.
Ask your child to sort the cookies according to shapes.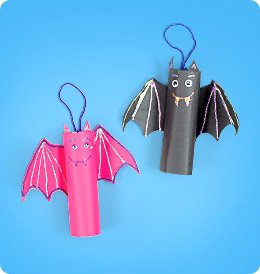 Batty Buddy
Children make and decorate a smiling bat that makes a perfect for welcoming the fall season!
You will need:
Bat Wing Template
Construction Paper – 9″ x 12″ – Assorted Colors
Glitter Glue Painters
Colored Wiggly Eyes
Yarn Laces with Tips
Best-Buy School Glue
Crayons or markers
Before you begin:
Prepare all materials and talk to your child about in coming fall season.
Directions
Print and cut out the Bat Wing Template for your child. Have your child color the wings.
Lay a sheet of construction paper flat and decorate it with fun batty features—wiggly eyes, a nose, mouth, ears, etc. To make the ears, tear out two triangles from an extra sheet of construction paper. Set this sheet aside.
(Note: Encourage children to make their bat bodies in any color they like.)
Decorate your bat wings with glitter painters and other fun collage materials. Set aside.
Carefully roll up the first sheet of construction paper, creating a cylinder. This is your bat's body, so be careful not to wrap it too tightly. Apply glue to the inside of the loose end and firmly press it to one side, closing your cylinder. Use craft tape on the inside edges to secure, if necessary.
Now add the wings, by applying a small amount of glue onto the middle of the wings and then attaching them to the back of the body. Lay the bat flat on its wings to allow the glue to dry a little and secure the wings to the body. If necessary, add a couple of pieces of craft tape.
Punch a hole above the wings and string a yarn lace.
Your batty friend is ready for flight!
Problem Solving
60 minutes
Watch It Roll!
Objectives
Will explore motion, friction, and angles.
Will explore cause & effect relationships.
Will make predictions.
Materials Needed
Cardboard
Scissors
Hot glue
Textured material, such as sandpaper or felt
Toys that roll cars, balls (2″ in diameter or larger), plastic or wooden objects with rounded edges, oranges, etc.
Objects that do not roll—blocks, books, cubes, etc.
Getting Started
Create your own ramps using the materials.
Set the rolling and non-rolling objects next to the ramps.
Procedure
Show your child the ramps and say, I wonder what will roll down the ramps.
Invite your child to look at the rolling and non-rolling objects and predict which ones will roll.
Have your child select one of the objects and roll it down one ramp. Did it roll?
Roll it down the other ramp. Which ramp made the object roll faster?
Continue testing more of the rolling objects in this way.
Movement / Play
60 minutes
Water Bottle Ring Toss
Objectives
Children will practice tossing.
Materials Needed
Water bottles
Paper
Scissors
Marker
Pipe stems
Tape
Getting Started 
Cut a piece of paper into five strips and write one number, 1 to 5, on each strip. Tape a strip of paper to each bottle.
Twist two pipe stems together to create one long pipe stem and then attach the ends together to create a ring. Make several rings like this.
Set up the water bottles in a staggered line in a large, open area.
Activity
Tell your child that the goal is to toss the rings so that they land on or around the bottles.
Allow your child to practice tossing the rings onto the bottles.
Give your child the rings and toss them onto the bottles. If a ring lands on or around a bottle, the number on the bottle is how many points the child earns for the toss. The goal is to score as many points as possible.